Alvin Garage Door Service®
Garage Door Installation |

Buffalo Grove
$19 Service Call
New Garage Door Installation in
Buffalo Grove, IL
It would be almost impossible to find a garage door type we haven't had a pleasure to work with. Alvin Garage Door Service® have been installing various garage door types, brands, and models for the residents of Buffalo Grove, IL for decades.
Request Garage Door Service
We Offer All Types of Garage Doors
There are numerous options of garage doors but only a few choices may be right for you.
At first, you may be overwhelmed by the variety of types and designs of garage doors out there. We truly understand the frustrations some of our clients may have to go through when making an important decision of selecting a garage door for their home.
We will be happy to assist you and guide you through that process and will gladly explain why certain options would be better for you than the other ones. We have hundreds of happy customers who made the right decision of trusting our expertise and enjoy their beautiful and functional garage door every day.
3 Main Types of Garage Doors
Besides the material types and design styles, the biggest difference between garage doors comes from the way they are built and operate. The most common types available on the market include single panel, sectional and roller garage doors.

Single panel garage doors
Single panel garage doors are made of one solid piece that slides up-and-over in a space above your vehicle. The initial cost and also maintenance of single panel garage door solution is considerably cheaper than other types.
They are attached to the frame with one hinge on each side which allows them to swing easily even without garage door opener. Single panel garage doors were very popular until the sectional garage doors came around. The biggest disadvantage of single panel garage doors is that they require extra space in the front of a garage to operate.

Sectional garage doors
Sectional garage doors can be constructed of three to eight or more panels. Each panel is individually connected to the track on both sides. The sectional garage door simply slides up and overhead along the track while being operated by one of the various garage door opener systems. Although they occupy the same amount of internal space as single panel doors they do have some important advantages:
Sectional garage doors slide straight up along the track so they do not require any extra space to open like single panel garage doors. You no longer have to worry about parking your car too close to garage when using sectional garage doors.
Every panel has its own attachments to the track on both sides which greatly increases reliability and safety.

Roller garage doors
In the vast majority of cases, roller garage doors are made of corrugated steel, aluminum or fiberglass composites. Roller doors offer probably the neatest and least space consuming solution for your garage door system. Because of the fact that roller garage door literally rolls up into the compartment space above the garage door opening it does not require extra space for any garage door tracks.
Roller garage doors are known to deal very well with different weather conditions. Depending on your location and climate you may choose between insulated double skinned or non-isolated single skin roller garage doors.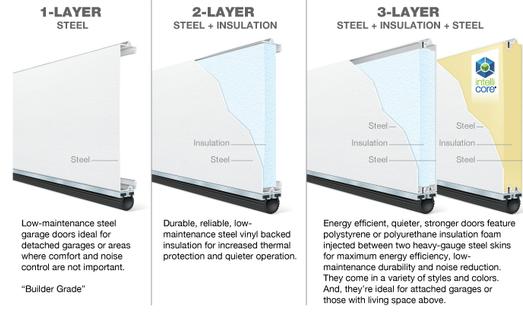 How To Pick The Best Garage Door?
When picking the best garage door for you, a good place to start is with material type. Most garage doors are made from either wood, steel or fiberglass. These three materials are strong, durable and each have their unique benefits at various price points.
Most popular garage doors today are steel doors and they come in four different insulation types.
Non insulated Garage Door ( Hollow Door ) R-Value 0.00
Half insulated Garage Door ( Vinyl back ) R-Value 3.56
Fully insulated Garage Door (Sandwich ) R- Value 9.65
Foam Injected Garage Door (intelle core ) R- Value 18
Pretty close to their home's R-Value. An insulated garage door will not make your garage door warm but it will make it warmer. And that's the point. It may raise the temperature by as much as 10 degrees and that is very often the difference between cold and freezing which is important.
Beaten, or rusted garage door is not just unsafe but an eyesore that can damage the resale value of your home. It isn't a wonder either, as a garage door can take up nearly a third of the front real-estate of your home. An ancient and eroded door can reduce your home's curb appeal while also being considerably inferior in insulation than newer models. This poor insulation can make your garage hot in the summer and freeze in the winter. At Alvin Garage Door Service® we always recommended to properly maintain your door to get the most out of it, but we also offer a wide range of different doors to choose from if you decide to replace it.
Most Common Garage Door Material Options near
Buffalo Grove, IL
Wooden
Garage Doors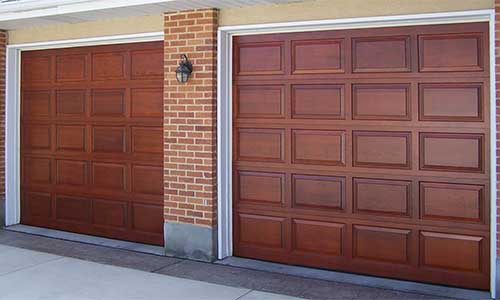 If you value beautiful style and craftsmanship then you should probably consider getting a wooden garage door for your house. Wooden garage doors offer the kind of charm and authentic look the other materials can not duplicate. However, wooden garage doors require a quite frequent repainting or refinishing, esp if you live in the climate with higher humidity levels.
Steel
Garage Doors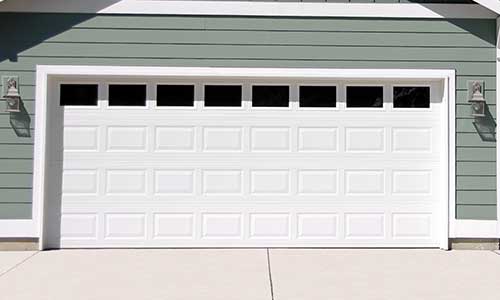 Steel garage doors offer the best durability and insulation among all garage doors available on the market. Like with any other product the quality of steel garage doors will vary with the price. The higher-end steel garage doors are made of two layers of galvanized steel with or without a layer of insulation material trapped in between.
The surface of steel garage doors can be coated with either a tough finishing paint or a composite material. The biggest downside of steel garage doors is the fact they can be dented and may be affected by rust esp. in those spots where the paint is missing.
Aluminum
Garage Doors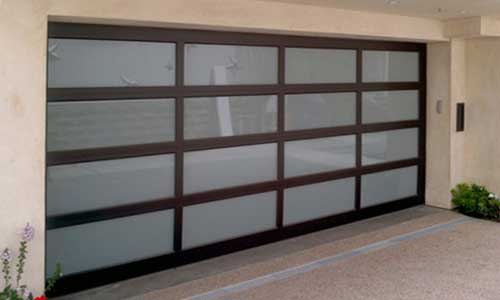 If you live in a climate with some warmer weather and are interested in buying a modern style garage door then you should definitely take a look into aluminum garage door department. Made of aluminum frames and tinted or clear glass panels these garage doors come in various sharp looking contemporary designs.
Aluminum garage doors are rust-proof, can be fairly inexpensive and because of their light weight, they are a preferred choice wherever extra-wide double garage doors are required.
Do you need a new garage door in Buffalo Grove, IL?